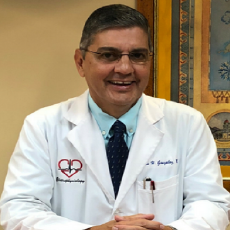 Specialty:
Cardiovascular
Address:
11020 SW 88th St. Suite 102C,
Miami, FL 33176
We know that the heart is central to your health and family. So when it comes to your heart and vascular health, you want the best healthcare available. That is why it was important to me, Dr. Efrain Gonzalez, MD to offer the community of Miami, FL the perfect combination of experience, advanced technology, state-of-the-art treatments with personal care. I am a dedicated cardiovascular specialist who works hard to care for every heart that passes through my door. To do so, I offer a full suite of heart and vascular treatments, as well as rehabilitation, outpatient follow up and education to keep your heart healthy for a lifetime.
Dr. Gonzalez was born in Rochester, New York. He received a medical degree in Asuncion, Paraguay, and completed an internal medicine residency and a cardiology fellowship at Tulane University, followed by a cardiac electrophysiology fellowship at the University of Miami.
A specialist in cardiac electrophysiology, Dr. Gonzalez is trained to perform interventional cardiac electrophysiology studies (EPS) as well as surgical device implantations. An EPS is performed to assess complex arrhythmias, tachycardias, fainting spells, evaluate abnormal electrocardiograms, assess the risk of developing arrhythmias in the future, and design treatments for those abnormal heart rhythms. Other therapeutic modalities employed in this field include antiarrhythmic drug therapies and implantation of pacemakers and implantable cardioverter-defibrillators.
Board certified in Cardiology and Cardiac Electrophysiology, Dr. Gonzalez has maintained a private practice in Electrophysiology and Cardiovascular diseases since 1995 in the Miami area. He is a former Medical Director of Cardiac Electrophysiology at Baptist Cardiac & Vascular Institute and Chief of Electrophysiology at Mercy Hospital.
He is fluent in Spanish, English, German, and Guarani,
---
Office-Based Services
Arrhythmia Management
Pacemaker and Defibrillator Evaluation
Heart Failure Management
Hypertension Management
Lipid/Cholesterol Management
Smoking Cessation Strategies
Diagnostic Testing
Echocardiography
Holter and Event Monitoring
Plain Stress Test
Stress Testing- Plain treadmill, Stress Echo
Carotid Ultrasound Studies
Hospital/Outpatient Services
Electrophysiological Studies
Implantation of Pacemakers and Defibrillators
Atrial Fibrillation Ablation
Ventricular Arrhythmias Ablation
Supraventricular Arrhythmias Ablation
Electrical Cardioversion
Tilt Table Testing
Implantation, Replacement, and Revisions of
Pacemakers
Defibrillators
Loop Recorders
---